Rain Qin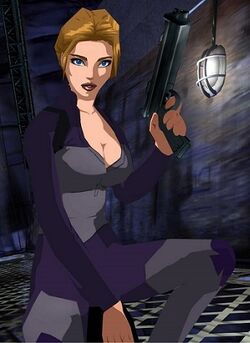 | | |
| --- | --- |
| Sex | Female |
| Birth | unknown |
| Age | Unknown (believed to be 18) |
| Hometown | Unknown (Found in China) |
| Height | 5'10" (178 cm) |
| Weight | 104 lbs. (47 kg) |
| Occupation | Hana's partner in crime |
| Voice | Dorothy Melendrez (Fear Effect 2: Retro Helix) |

Rain Qin is Hana Tsu-Vachel's partner in select missions that require someone with advanced technical knowledge. Having no memory of her past, she is a rather mysterious individual. Rain has a strong bond with Hana and will do whatever it takes to protect her.
Biography
Edit
"During a routine visit to her parents' memorial at Jing Sum Temple, Hana stumbled across Rain lying unconscious in the back garden beneath a mural of the Eight Immortals. For some reason, Hana felt compelled to help. She brought Rain home and nursed her back to health. A week later, Rain regained consciousness but could remember nothing of her past. Hana offered Rain shelter until she could be on her own again. Within a short time, Hana noticed the exceptional intelligence that Rain possessed. It became clear to Hana that Rain was a genius in various technical and academic disciplines. In time, the two became partners, and more..."
—Fear Effect 2: Retro Helix - Prima's Official Strategy Guide
Ad blocker interference detected!
Wikia is a free-to-use site that makes money from advertising. We have a modified experience for viewers using ad blockers

Wikia is not accessible if you've made further modifications. Remove the custom ad blocker rule(s) and the page will load as expected.